COMFORT MADE SEXY
Our seamless underwear are comfortable, functional, and sexy—designed and made by women to be just what you need, no matter what you need.
Each dylan panti is made with a poly-spandex fabric that stretches to fit perfectly while maintaining its original shape.
The 100% organic jersey cotton gusset keeps things dry and healthy down under.
Our four cuts are designed to pair discreetly with any outfit, staying out of sight and out of mind until you're ready to show them off.
Find Out More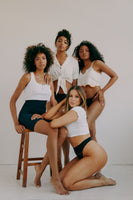 What our Dylan babes are saying
Just hitting 9 months today and these are so breathable and does not give me lines, the only ones that don't cut in!! Having these throughout my pregnancy has been a blessing! Thank you for creating something beautiful for all women!! Much love

Jehsi Gidley
Definitely one of my favorite underwear I own! I want to wear it everyday but it's become my "special" underwear. I wear them when I want to feel sexy, if I have a big meeting, a date or just because it's the perfect fit for my "fit of the day"!100% recommend!Ps. I've taken sooo many selfie videos in my own bathroom and public restrooms of me in my Love on Top High waisted thong!

Rashida Zagon
I love these compression shorts-they are functional, comfy & I can workout in them! My new go to, I can't wait to wear these all summer. Get ready to get snatched!

Sherica Holmon
Other dylan styles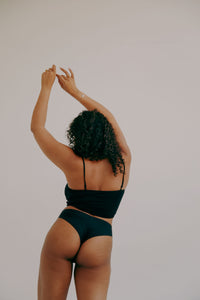 DRNK IN LOVE BIKINI
WE BE ALL NIGHT in a seamless bikini made with a poly-spandex blend and a 100% organic cotton microcut. Slip these on when you're ready to relax or anytime you're looking for more coverage.
add to chart
CRZY IN LOVE G STRING
A seamless, low-rise, poly-spandex thong with a 100% organic cotton microcut. This sexy, barely-there panti will make you forget you even had underwear on in the first place. Perfect for thin dresses, tight jeans, or anytime you feel like being free.
add to chart
LOVE HAPPY HIGH WAISTED COMPRESSION SHORT
Be happy and the most free in a full coverage seamless panti. Our compression shorts can be worn to avoid rolls, creases and lines in bodycon dresses or hip hugging skirts.  Made with a poly-spandex blend and a 100% organic cotton microcut.
add to chart
follow us on instagram for updates! @dylanunderwear